A Close Call Leads to a Pool Cover
October 28, 2021
An automatic pool safety cover means peace of mind for you, your family, and your pets. Contact us to install your automatic pool cover or pool fence.
Pool covers save lives, a lesson one BC family learned the hard way. Amanda had a close call after the family dog walked onto the pool's solar cover, and she tried to rescue it. Since that terrifying incident, automatic pool covers are the only pool safety solution this local businesswoman will turn to — and she trusts the Pool Patrol to do it right.
My name is Amanda W. I am a business owner.
We had a pool in our last house. We had a very traumatizing experience. Myself and my daughter were outside spending some time with our dogs. We had decided to put our solar cover on, which we never did, because our dogs are not that smart, and they've found their way into the pool a couple times.
We were outside and our dog decided that she was going to try to get across the pool and ended up in the middle of the deep end. I am very savvy about not being in the pool with the solar cover on but instincts kicked in, and I jumped on. And I actually ended up almost killing my dog and myself at the same time, it was extremely terrifying.
You think we should have these safety precautions for the children and the animals. But you never really think that you're going to put yourself into a situation that is potentially deadly. Unfortunately, my daughter had to witness me flailing and slowly getting wrapped up in the solar cover before she was ultimately able to reach me and pull me out.
So this time, we decided that with the new house, we were going to build a rectangle so that we could have a seamless, easy, safety cover so that that could never happen to us again.
I heard of Pool Patrol online, even before I built my other pool. But our backyard was a bit odd and I wasn't sure, budget-wise if we could make it happen. At this point, I would spend — no matter how much it cost — I would spend the money on a safety cover.
But Pool Patrol specifically, when I reached out to ask questions and to share my story and just find out what the situation was and how safe they were, they were incredible to deal with. Just so wonderful, great service, and made me feel really, really confident in my choice.
I would say as a mom, as a person who's looking to invest in a backyard pool, there's a lot of risks associated with it that you often don't consider. I certainly never would build another pool without a pool safety cover on it. Absolutely not. It's just not worth it. Any amount of money is worth spending if it means that you know there's lives saved.
A pool safety cover means peace of mind for you, your family, and your furry friends. Contact the Pool Patrol today to install your automatic pool cover or pool fence in the interior and lower mainland BC.
Featured News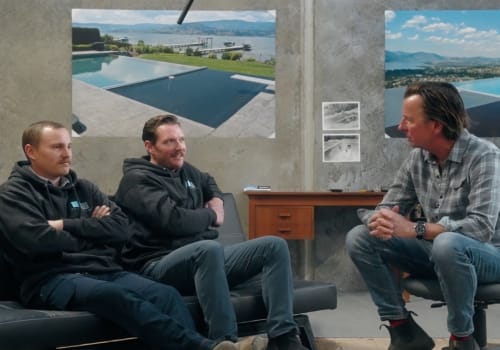 Video | November 27, 2023
Pool Patrol's Okanagan Team Reflects on Busy 2023 Pool Cover Season
As Pool Patrol wraps up for 2023, owner Allan Horwood sits down with pool cover specialists Eric and Caleb in Kelowna to reflect on a busy summer for automatic pool covers in B.C. Listen in on Allan and the team in part 1 of 3 of this informal conversation with our pool cover superstars.