NewsIn The Media
Why Work With a Pool Cover Specialist: Pool & Spa Marketing
April 26, 2023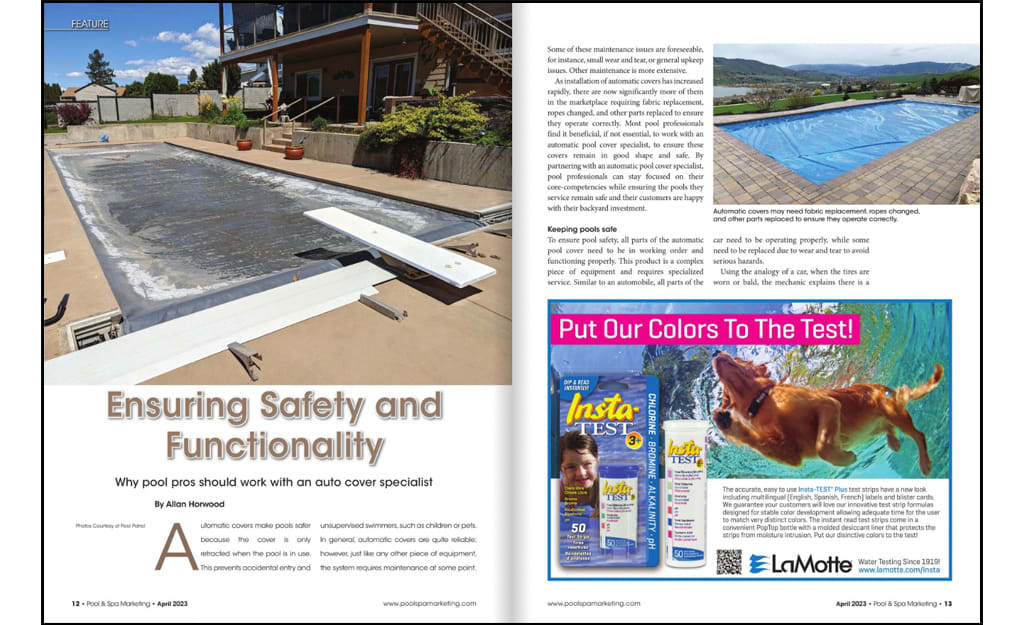 Have you checked out the latest issue of Pool & Spa Marketing Magazine? If you haven't, here's an in-depth feature penned by Pool Patrol founder, Allan Horwood. The piece delves into the nitty gritty of how pool professionals can benefit from working with an auto pool cover specialist.
Leave the automatic pool cover to the pros
Auto pool covers are one of the best things you can do to promote safety around the pool—but they also require maintenance. By working with a specialist for upkeep, pool contractors are able to focus on what they do best.
Maintenance can look like:
Fabric replacement
Rope replacement
General upkeep
Partnering with a specialist increases reliability
As a pool contractor, it's key to remind your clients that automatic pool cover fabric needs to be maintained for the integrity of the cover to hold it. Allan likes to compare it to tire material: a mechanic wouldn't want you driving around on bald tires! Partnering with a pool cover specialist means that your client's pool cover can be maintained by people who know exactly what to look for, without affecting your business in the midst of a labour shortage.
Pool cover fabric replacement
Pool professionals are often the first to note aging fabric on a pool cover. Clients might be interested in a replacement for safety or for aesthetics. It's important to remember that the different components of the pool cover all work together to make it function properly. When it comes time to replace the fabric, a pool cover specialist can ensure everything is functioning properly and get ahead of any red flags.
A specialized skill set
Since pool covers are what they do, a specialist can diagnose and repair mechanical and technical issues. In some cases, they even have the right parts and tools on hand for quick fixes! Pool covers are complex and not every issue lies near the surface. A specialist will know how and what to look for when it comes to pool cover repair and maintenance.
Save money, avoid disasters
And, of course, by enlisting the help of a pool cover specialist, you can get ahead of any potentially costly or, at worst, hazardous issues that may arise.
Get the full story from Pool & Spa Marketing Magazine, and thank you, Allan, for sharing your industry knowledge!
Work with leaders in the automatic pool cover industry who take your family's safety to heart. The Pool Patrol services the Lower Mainland and interior B.C. with the best in pool cover installation and maintenance. Contact one of our pool specialists today.