NewsIn The Media
Pool Patrol Spills Their Auto Pool Cover Secrets in Pool & Spa Marketing Magazine
November 05, 2021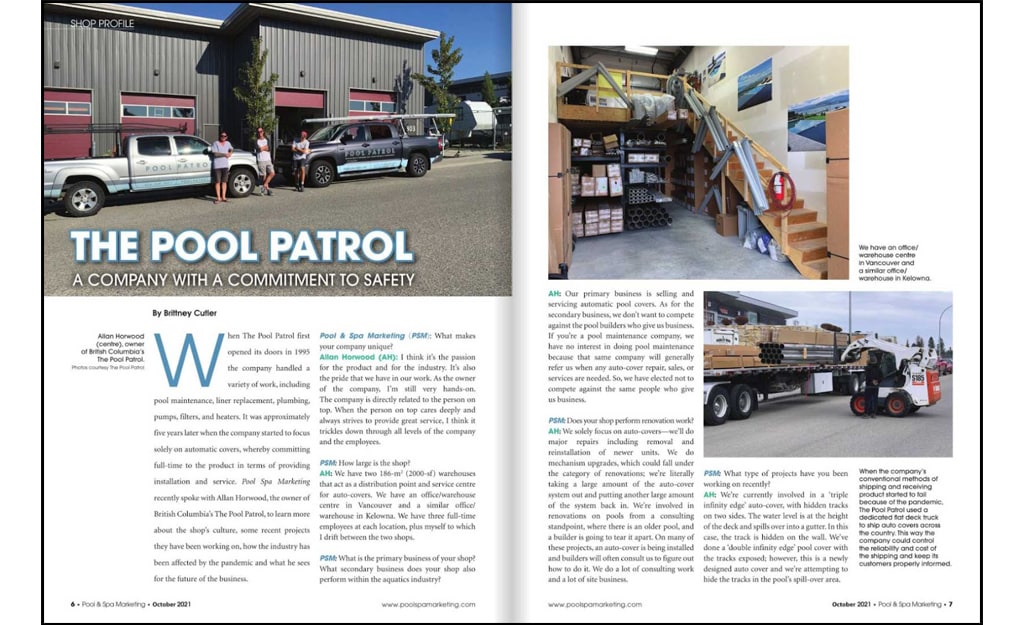 Pool & Spa Marketing Magazine brings the latest news and information to industry professionals and guess who had the privilege of gracing the cover of the most recent issue — the Pool Patrol.
We're so honoured to be featured not only for our expertise in automatic pool covers but for the chance to dig into our company's history and values (hint: we're nuts about safety).
Check out the full issue here.
Without giving away too many spoilers, here's just some of what to expect from the issue:
How We Got Started
Our owner, Allan Horwood, sat down with Pool & Spa Marketing to share our humble beginnings and transition to solely focusing on pool covers and fences.
The Pool Patrol Secret
Allan also divulges the secret to Pool Patrol's success: passion and pride. Starting from the top with Allan, the dedication to keeping families safe while providing a superior product and service is infectious.
Behind the Scenes
See for yourself the step-by-step process that goes into installing a pool safety cover. We dig into the whole procedure on a new, fibreglass pool installation. Pictures of each step help you to really get a peek into how the process works.
The Three Components
We go into the scope of our services. Did you know we have a retail/consumer division that is us working directly with you, but also a wholesale division for pool builders and a contractor division where we install the safety cover for pool builders?
What's in a Shape?
L-shaped, lap pool, multi-level — if you can swim in it, chances are we can cover it. You don't want to compromise on the safety of an automatic pool cover because your pool is an unusual shape. In Pool & Spa Marketing, learn all about how multiple pool covers can be the key to safely enjoying your pool when the warm weather comes.
The Pool Patrol is here to help keep your family safe, no matter what shape your pool takes. If you're looking into pool safety cover or pool fence installation in the lower mainland and interior B.C., contact one of our pool specialists today.