Safety Looks Good: How An Automatic Pool Cover Beautifies Your Yard
April 17, 2023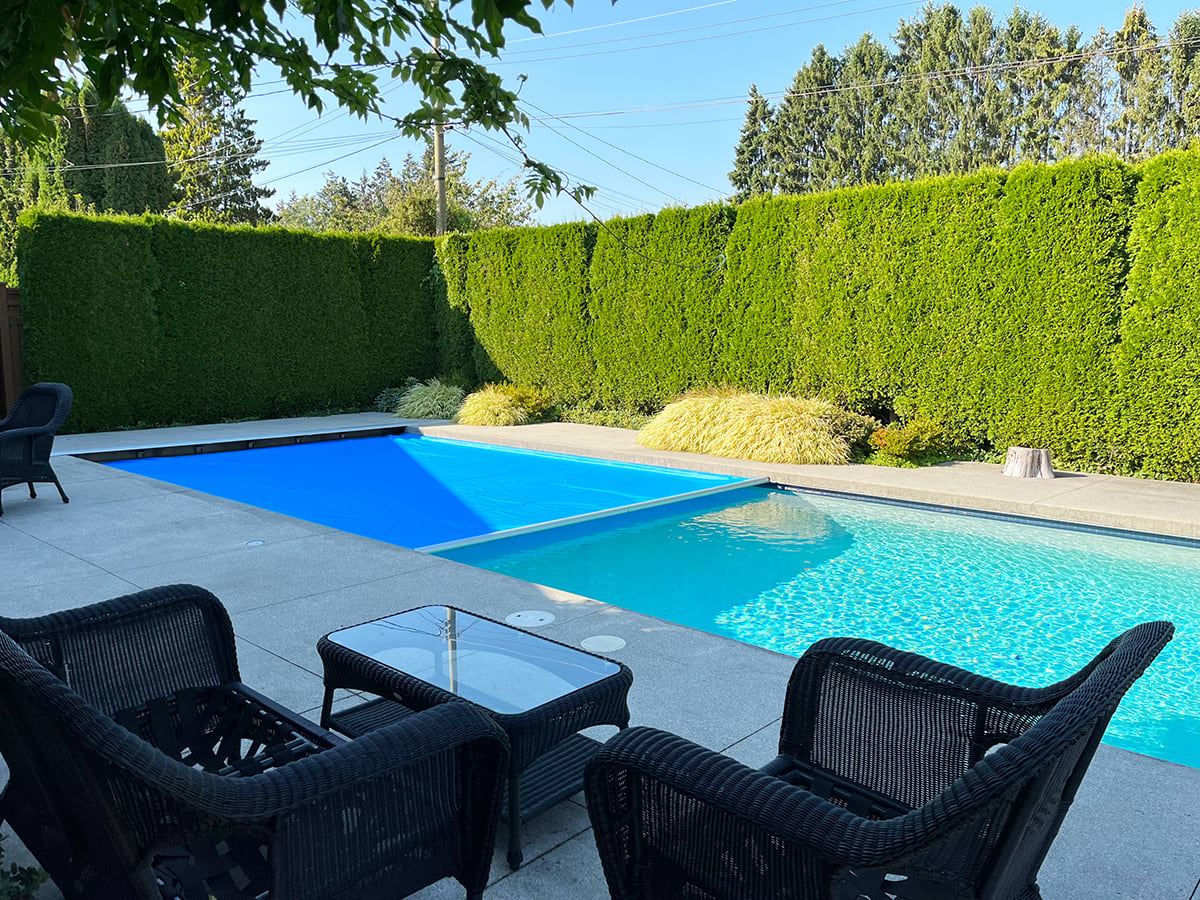 Spring is in the air! Soon enough, pool party season will be upon us and in beautiful British Columbia, where pool season starts earlier than the rest of Canada, you want to stay ready to welcome people on deck!
A serene and easy-on-the-eyes backyard oasis is easy to achieve with the help of an automatic pool cover. Bear with us, we know safety doesn't exactly sound sexy, but this simple, safe addition to your pool is the perfect way to help liven up the atmosphere.
Pool Cover Fabric Colours
First, the colours. There's no better way to add a splash of class to your backyard than a colour-coordinated pool cover fabric—forest green to blend into nature or charcoal gray for a sleek, upper-class look. We have eight fabric colours so you don't have to be stuck with whatever the manufacturer gives you. This is your space, after all!
Our pool cover fabric selection:
Light blue
Royal blue
Navy blue
Forest green
Light gray
Charcoal gray
Brown
Beige
Don't go uncoordinated again! We can use your choice of colour during your pool cover safety installation or when replacing the older fabric on an existing cover.
Fabric and Installation Quality
If you've had a pool cover before, you may have wondered why the fabric can be wrinkled, cracked, and just plain unsightly. The Pool Patrol uses high-quality fabrics with tensile strength, meaning they don't crack.
For wrinkled fabric, you may have an ill-fitting, older top. We can fix that with a replacement resulting in a smooth, even surface.
Quick Cleaning Care
We love pool covers for their safety, above all, but another huge benefit of having a cover is that they keep your pool easy to clean and ready to go. An automatic pool cover keeps leaves, dirt, and other debris out of your pool so that clean-up is quick and easy.
Keep your pool looking good this season. The Pool Patrol is an automatic pool cover company that makes safety and quality their mission. Contact the Pool Patrol to get started on your pool safety cover installation today.