Old Pool, New Automatic Pool Cover
We can install an automatic pool cover on most existing pools.
If your pool wasn't constructed with an automatic pool cover in mind, you haven't missed the boat.
While not every pool is a perfect candidate for a pool safety cover, Pool Patrol can usually overcome the various challenges of installing an auto cover on an existing pool. We've been in the game since 1995 and lead the pool cover industry in western Canada, so we've got a few tricks up our sleeves.
Safety on deck
The most common limiting factor when it comes to installing auto covers on existing pools is deck space. While a new build has space for the tracks and motor added in during the construction phase, the tracks for an existing pool will be mounted on the deck.
Concerned about tracks mounted on the deck? Don't be. The track profile is designed so it is not a tripping hazard.
Peace of mind and more
Besides offering worry free safety, our automatic pool covers save heat, chemicals and make cleaning simple while extending the life of your equipment. It's all you need for year-round pool protection.
Two locations to serve you
With over two decades of experience and locations in Vancouver and Kelowna, we're able to provide the safety and convenience you need on your existing pool, no matter the shape.
Interested in learning more about how Pool Patrol can help with your existing pool cover installation? Contact us for a consultation.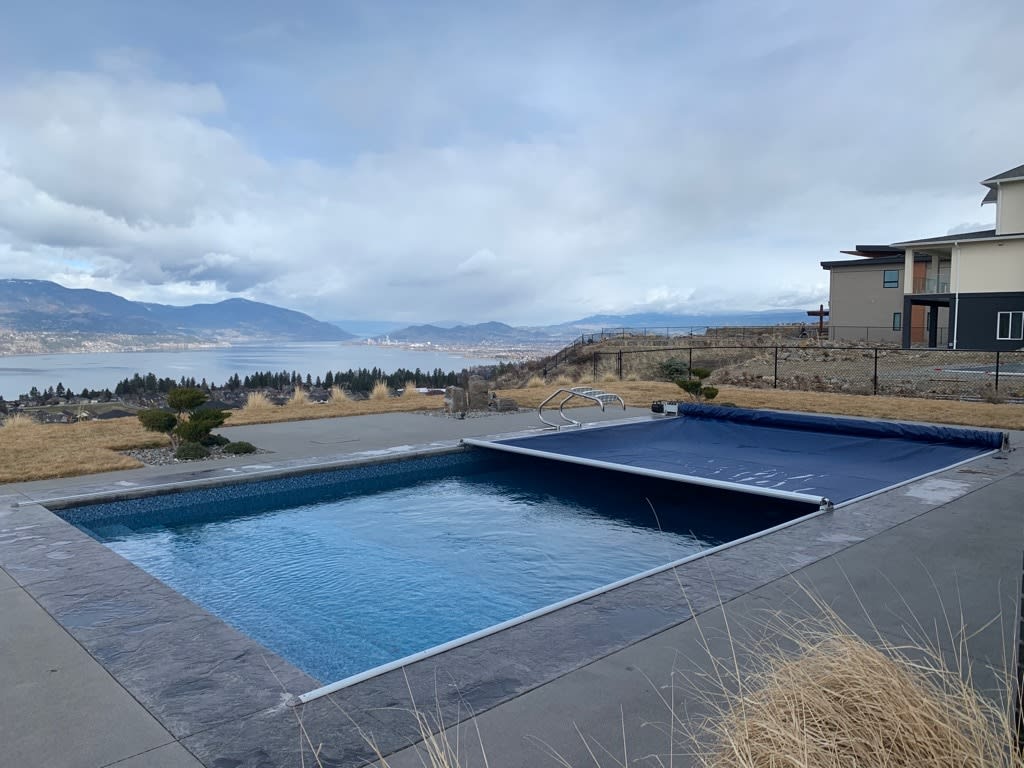 Automatic Pool Cover Benefits
and Customization
Frequently Asked Questions
The following prices are a guideline. To get an estimate for your specific pool, get a quote.
Automatic pool cover for a new pool (conventional and infinity edge): starting at $20,000
Automatic pool cover for an existing pool: starting at $15,000, cover only
For new pool builds, both conventional and infinity edge, we would encourage you to organize your order through your pool builder.

Using a system of tracks and a motor, an automatic pool cover securely covers and uncovers your pool with the push of a button. When covered, the pool safety cover prevents potentially devastating accidents around the pool, helps maintain water levels, reduces energy use, and maintains cleanliness by keeping debris like leaves and dirt out of your pool.
Yes! We encourage you to contact your pool builder if you're considering an automatic pool cover for a new pool. We will then be able to work directly with your pool builder to begin pool cover installation in the construction phase. After the pool is complete, Pool Patrol will return for a one-day job to install the cover with minimal disturbance to your backyard.
Yes we can, provided there is enough deck space to form a rectangle with no raised objects in the way, like an elevated hot tub or rock features. Typically we need a minimum of two feet of space on the deck area at both the shallow and deep end.

Existing diving boards and ladders are generally unobstructive and should not interfere with our ability to install an automatic pool safety cover on an existing pool.